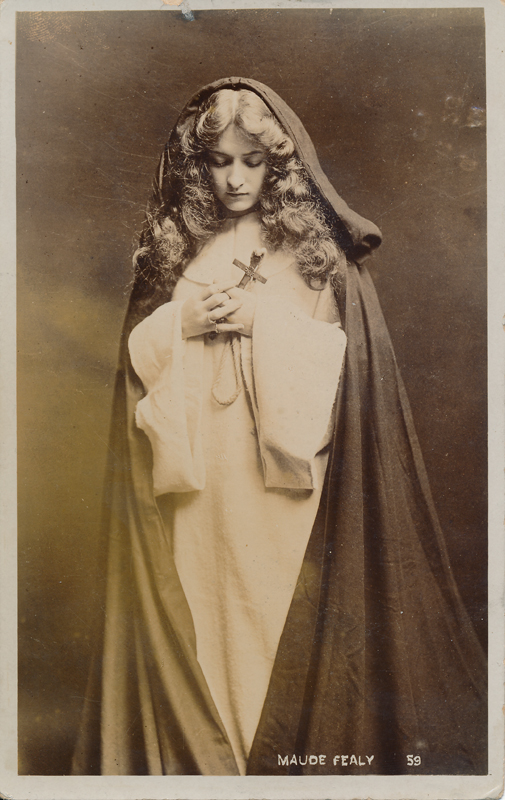 Maude Fealy in "Becket"
This sepia-toned photograph is a full-length portrait of a young woman, standing against a solid-colored backdrop. She is dressed in a white, dress-like garment, similar to a nun's habit, and a dark floor-length hooded cape. Her curly hair, most likely blond, is parted down the middle, and stops just below her shoulders. Her hair peeks out beneath and around the hood of her cape, which is drawn over her head. Her eyes are downcast or closed, and her expression seems calm and solemn. In her hands, crossed at her breast, she holds a small wooden cross attached to a thin rope. She wears a ring on the ring finger and another on the pinky finger of her right hand. At the bottom right corner of the photograph, capitalized text reads: MAUDE FEALY 59.
The most important role in Fealy's career thus far came when Sir Henry Irving (playing Becket) cast her as Rosamund de Clifford in his adaptation of Alfred Lord Tennyson's play Becket. The part had previously been played by Dame Ellen Terry to great acclaim: Fealy's reviews in the same part were quite favorable. This production ran for eighteen performances at the Drury Lane Theatre from April 29 through May 20, 1905. The play was first performed in 1893 with Sir Henry as Becket and Ellen Terry as Rosamund.
At the end of the play Becket arranges for Rosamund, who has been the king's mistress, to escape disguised as a monk, although Fealy usually is dressed as a nun.
This card (59) was published by A. & G. Taylor, London.
Dimensions:

505 × 800

File size:

326 KB