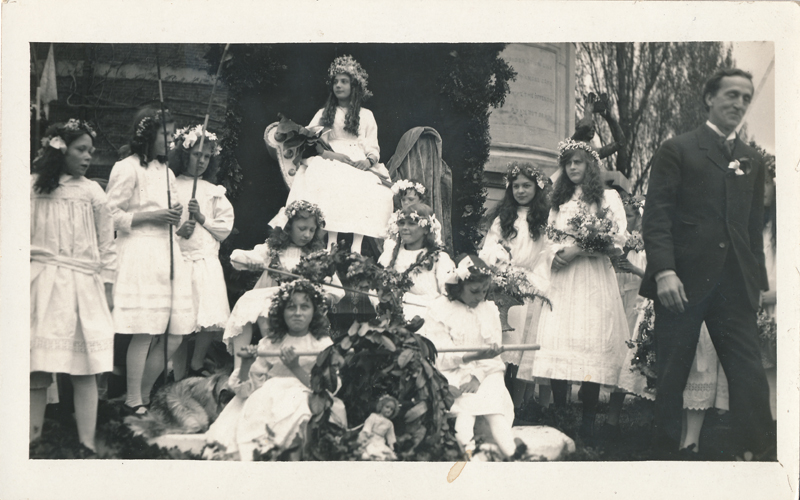 Studio Postcard of Frank Benson
This card is horizontal in orientation, there are many children in the picture – at least twelve girls. They're all dressed in white gowns, All of them have flower tiaras in their hair. Some are holding long sticks. There seems to be some organization concerning where the girls are sitting, with one sitting on a high pedestal overlooking the others. She and some of the others are holding a bouquet of flowers. There is a man grinning, walking away from the girls to the far right side of the image. He is wearing a black suit, ascot, and has a boutonniere on his jacket. The card has no printed words, and is totally in black and white.
This card, published by Spencer, Photographic Chemist, Stratford-on-Avon, is so charming and intriguing that I would like to find out more about it. At the far right a smiling, amused Frank Benson walks out of the picture. The young girls are posed by the Gower Monument, where we can catch a glimpse of the monument and the statue of Henry IV on the right-hand side of the bush. The girls seem to be celebrating May Day, with the Queen of the May sitting on her throne at the top of the picture. What Benson's involvement might have been we can only guess.
Someone, probably the original owner, has written "1913" on the back. The card has no postmark.
Dimensions:

800 × 500

File size:

304 KB