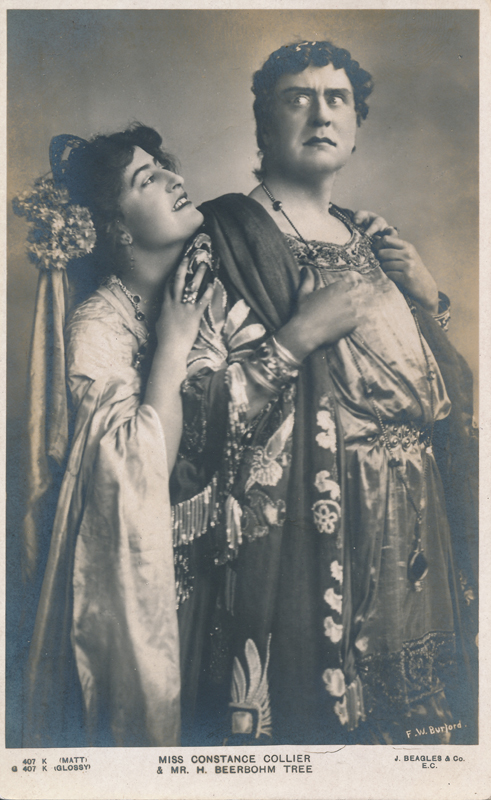 Constance Collier and Herbert Beerbohm Tree in "Nero"
The image on this postcard shows a man and a woman dressed in performance costume. The woman is standing behind the man with her arms touching his arms, playfully. Her body is pressed upon his and she is smiling, perhaps laughing, and looking up at his face. She has black hair with a large bow and trailing ribbon in it. She is wearing long light colored gowns and has a ring on her finger. The man seems to be standing taller than the woman and is looking out into the abyss, toward the left top of the card. His hands are grabbing for his robe and he is wearing shiny clothes – a long robe, and silky gown with flowery prints on them. He also has a long thin necklace around his neck. At the very bottom of the card, in the white border space, at the center is the printed name of the actors: Miss Constance Collier, and underneath that, & Mr. H. Beerbohm Tree. To the right of the names is the card publisher: J. Beagles & Co. E.C. To the left of the names, on the far side, the series number: 407K, along with the type of card: Matt and Glossy. The name of the photographer is inscribed in the right corner, just about the publisher: F. W. Burford. The entire image is in black and white.
Tree starred as Nero and Collier played Poppoea, a part she created for the stage. Stephen Phillips' Nero opened at His Majesty's Theatre, London, in 1906.
The card (407 K) was published by J. Beagles with a photograph by F. W. Burford.
Dimensions:

491 × 800

File size:

326 KB