We're interested in your contributions to the site. Shakespeare & the Players is committed to excellence in accessible practices. We have many postcard images to describe and handwriting to transcribe, and we could use your help. It ensures that the images can be conveyed to and enjoyed by all audiences. If you'd like to contribute by describing an image or transcribing some of the handwriting, please follow the instructions to submit below. If approved, we will credit you under the descriptive/alternative text for the image on the site. For more teaching and research ideas, read more here.
Here are examples of alternative text for postcard fronts and handwriting transcriptions on the backs: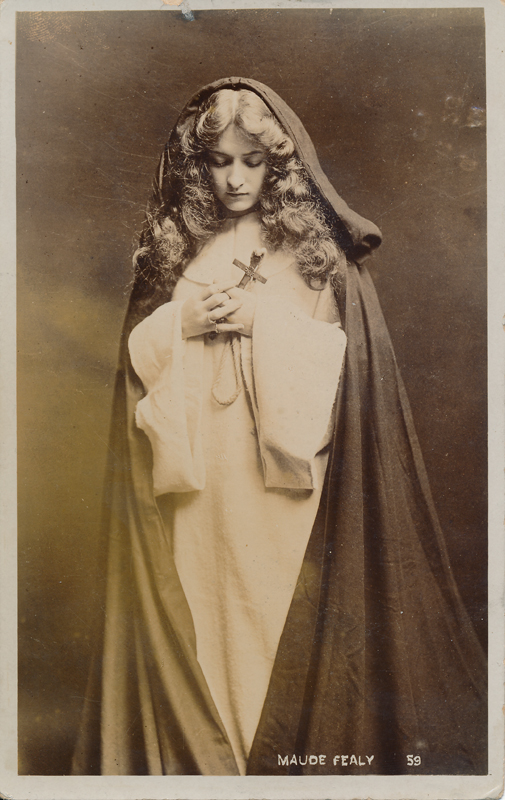 Maude Fealy as Rosamund de Clifford in Lord Tennyson's "Becket"
This sepia-toned photograph is a full-length portrait of a young woman, standing against a solid-colored backdrop. She is dressed in a white, dress-like garment, similar to a nun's habit, and a dark floor-length hooded cape. Her curly hair, most likely blond, is parted down the middle, and stops just below her shoulders. Her hair peeks out beneath and around the hood of her cape, which is drawn over her head. Her eyes are downcast or closed, and her expression seems calm and solemn. In her hands, crossed at her breast, she holds a small wooden cross attached to a thin rope. She wears a ring on the ring finger and another on the pinky finger of her right hand. At the bottom right corner of the photograph, capitalized text reads: "MAUDE FEALY 59."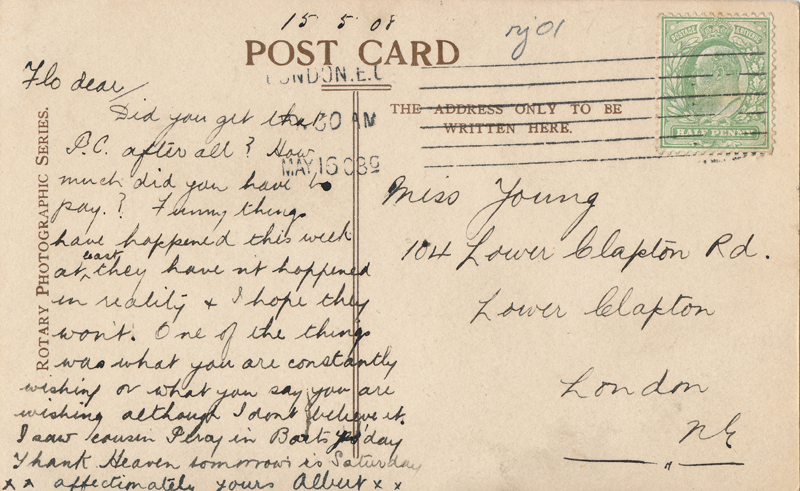 Back of Blanche Stanley and Nora Kerin in "Romeo and Juliet" (b)
On the left side in black ink, cursive handwriting, reads: "Flo dear, Did you get the P.C. after all? How much did you have to pay? Funny things have happened this week at least they haven't happened in reality + I hope they won't. One of the things was what you are constantly wishing or what you say you are wishing although I don't believe it. I saw cousin [not clear] in [not clear] yes'day. Thank Heaven tomorrow is Saturday x x Affectionately Yours [Albert?]
On the right side reads: "Miss Young
104 Lower Clapton Rd.
Lower Clapton
London"
At the very top of the card, there is a date, perhaps: "15 5 08".
---
Please complete the following form for submission: