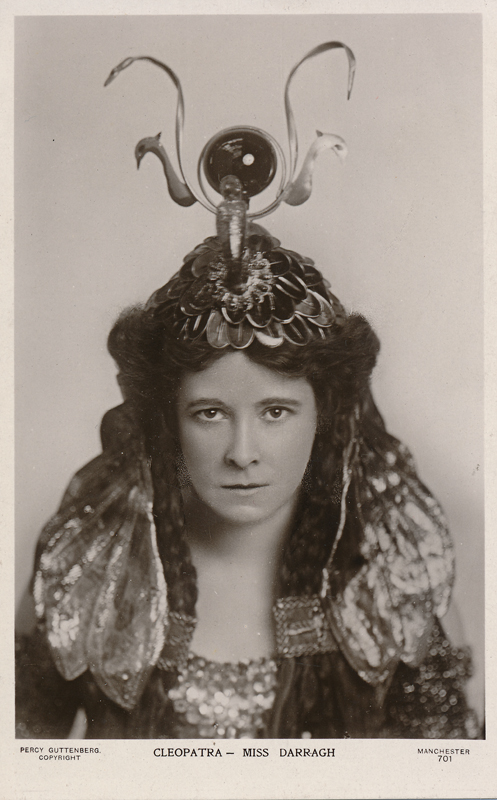 Give my my robe. Put on my crown. I have Immortal longings in me (5.2).
Antony and Cleopatra tells the story of a romance between two powerful lovers: Cleopatra, the queen of Egypt, and Mark Antony, who rules the Roman Empire with Octavius Caesar and Lepidus.
Although he is needed in Rome, Antony lingers in Egypt with Cleopatra. He finally returns to Rome when Pompey, another military leader, tries to gain control of the empire. Once in Rome, Antony marries Caesar's sister Octavia.
After Pompey is defeated, Caesar imprisons Lepidus and turns on Antony. Octavia attempts to reconcile them, but fails.  Antony returns to Cleopatra. He challenges Caesar at sea, adding Cleopatra's ships to his own. When she and her navy flee in mid-battle, Antony follows, abandoning his men.
Antony fails in a second battle at sea. At first, he blames Cleopatra and plans to kill her. He responds to false news of her death, however, by attempting suicide; fatally wounded, he reunites with her as he dies. Faced with Caesar's plans to humiliate her in Rome, Cleopatra kills herself with poisonous snakes (reproduced with permission from Folger).
Postcards of Antony & Cleopatra:
Productions of Antony and Cleopatra:
1890 Lily Langtry's production of Antony and Cleopatra ran at the Princess's Theatre (London) from November 18, 1890, until February 21, 1891. In the 96 performances Langtry played Cleopatra and Charles F. Coghlan played Antony. Others in the cast were Frank Kemble Cooper as Octavius Caesar, Arthur Stirling as Enobarbus, Charles Burleigh as Eros, and Amy McNeill as Charmian.
1893 An Italian translation of Antony and Cleopatra had three performances at the Lyric Theatre (London) in June. The interest no doubt arose from Eleonora Duse, the famous Italian actress, who played Cleopatra. Flavio Ando played opposite her as Antony (Wearing, I: 326).
1897 Ben Greet managed a production of Antony and Cleopatra that opened at the Olympic Theatre (London) on May 24 and ran for eleven performances. Marc Antony was played by Louis Calvert, and Leonard Calvert played Lepidus; both were members of the distinguished Calvert family of actors who performed in Manchester. Others in the cast were Janet Achurch as Cleopatra, Alfred Kendrick as Octavius Caesar, J. Carter Edwards as Enobarbus, and Michael Dure as Eros (Wearing, II: 663).
1900 Frank Benson's troupe performed Antony and Cleopatra six times (March 29-April 4) at the Lyceum Theatre (London). Benson played Marc Antony and Constance Benson played Cleopatra. Lily Brayton played Iras and E. Lyall Swete, Enobarbus. The company also performed Henry V, Hamlet, and Twelfth Night. An interesting note is that a young Isadora Duncan played one of the fairies in A Midsummer Night's Dream (Wearing, I: 17; Loney, I: 3).
1906 On December 27, Herbert Beerbohm Tree staged a revival of Antony and Cleopatra at His Majesty's Theatre. Tree played Marc Antony with Constance Collier as Cleopatra. Basil Gill also appeared (Loney, I: 33).
1909 On November 6, Winthrop Ames opened his New Theatre in New York City with Antony and Cleopatra; among the distinguished cast were E. H. Sothern, Julia Marlowe, Louis Calvert, Matheson Lang, and Annie Russell.
1912 The third annual summer season of Shakespeare began on August 7 at Stratford. The Shakespeare plays performed by Frank Benson's troupe included Othello, Henry V, Antony and Cleopatra, A Midsummer Night's Dream, and The Merry Wives of Windsor (Loney, I: 64).