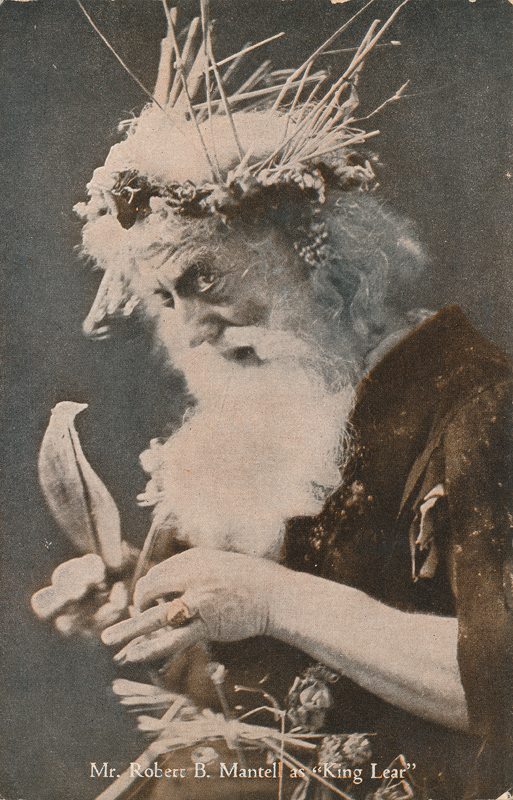 Unhappy that I am, I cannot heave My heart into my mouth (1.1).
King Lear dramatizes the story of an aged king of ancient Britain, whose plan to divide his kingdom among his three daughters ends tragically. When he tests each by asking how much she loves him, the older daughters, Goneril and Regan, flatter him. The youngest, Cordelia, does not, and Lear disowns and banishes her. She marries the king of France. Goneril and Regan turn on Lear, leaving him to wander madly in a furious storm.
Meanwhile, the Earl of Gloucester's illegitimate son Edmund turns Gloucester against his legitimate son, Edgar. Gloucester, appalled at the daughters' treatment of Lear, gets news that a French army is coming to help Lear. Edmund betrays Gloucester to Regan and her husband, Cornwall, who puts out Gloucester's eyes and makes Edmund the Earl of Gloucester.
Cordelia and the French army save Lear, but the army is defeated. Edmund imprisons Cordelia and Lear. Edgar then mortally wounds Edmund in a trial by combat. Dying, Edmund confesses that he has ordered the deaths of Cordelia and Lear. Before they can be rescued, Lear brings in Cordelia's body and then he himself dies (reproduced with permission from Folger).
Postcards of King Lear:
Productions of King Lear:
1892 When Henry Irving's production of King Lear opened with Irving playing Lear and Ellen Terry playing Cordelia, the play ran for seventy-six performances. It opened at the Lyceum Theatre (London) on November 10, 1892, and closed on February 1, 1893, with one additional performance on March 6, 1893. The other actors were Frank Cooper as Edmund, William Terriss as Edgar, Alfred, Bishop of Gloster, W. J. Holloway as Kent, William Haviland as the Fool, Ada Dyas as Goneril and Maud Milton as Regan (Wearing, I: 266-7).
1913 The first season of the Birmingham Repertory Company opened with Barry Jackson's production of Twelfth Night (Loney, I: 68).
1914 On March 16, at the Hudson Theatre, New York City, Margaret Anglin began a run of Shakespeare plays; she directed and played in As You Like It, Twelfth Night, and The Taming of the Shrew (Loney, I: 72).