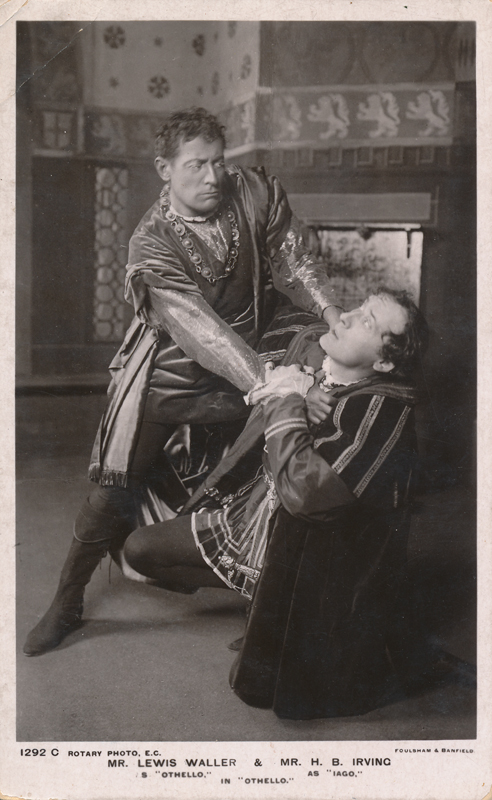 Iago is most honest (2.3).
In Venice, at the start of Othello, the soldier Iago announces his hatred for his commander, Othello, a Moor. Othello has promoted Cassio, not Iago, to be his lieutenant.
Iago crudely informs Brabantio, Desdemona's father, that Othello and Desdemona have eloped. Before the Venetian Senate, Brabantio accuses Othello of bewitching Desdemona. The Senators wish to send Othello to Cyprus, which is under threat from Turkey. They bring Desdemona before them. She tells of her love for Othello, and the marriage stands. The Senate agrees to let her join Othello in Cyprus.
In Cyprus, Iago continues to plot against Othello and Cassio. He lures Cassio into a drunken fight, for which Cassio loses his new rank; Cassio, at Iago's urging, then begs Desdemona to intervene. Iago uses this and other ploys—misinterpreted conversations, insinuations, and a lost handkerchief—to convince Othello that Desdemona and Cassio are lovers. Othello goes mad with jealousy and later smothers Desdemona on their marriage bed, only to learn of Iago's treachery. He then kills himself (reproduced with permission from Folger).
Postcards of Othello:
Productions of Othello:
1890 On April 24 and 25, Frank Benson's company gave two performances of Othello at the Globe Theatre (London); Benson played Othello. The other principal players were Alfred Brydone as Brabantio, Herbert Ross as Cassio, Charles Cartwright as Iago, Arthur Grenville as Roderigo, Constance Benson as Desdemona, and Rose Mellor as Emilia (Wearing, I: 27).
1891 Leonard Outram as director presented one performance of Othello at the Avenue Theatre (London) on August 25. Lion Margrave played Othello, Iago was played by George Hughes, Desdemona by Frances Ivor, and Emilia by Alice Yorke (Wearing, I: 150).
1896 Edward Hastings directed one performance of Othello at Covent Garden Theatre (London) on July 30. The cast included Charles Pond as Othello, Ettie Williams as Desdemona, and Hermann Vezin as Iago (Wearing, I: 591).
1897 Charles Whitley played Othello in a matinee performance at the Avenue Theatre (London) on February 16. Iago was played by John H. Manley, Desdemona by Mrs. Loftis, and Emilia by Anne Beaufort (Wearing, II: 35).
1897 Wilson Barrett played Othello in his production of the play at the Lyric Theatre (London); Othello opened on May 22 for a seven-performance run. Iago was played by Franklin McLeay, Desdemona by Maud Jeffries, and Emilia by Frances Ivor (Wearing, II: 662).
1899 For two performances (December 2 and 14) Wilson Barrett played Othello at the Lyceum Theatre (London). J. Carter Edwards played Iago, Maud Jeffries, Desdemona, and Alida Cortelyou, Emilia (Wearing, II: 845).
1900 On April 23, Frank Benson and his company began the annual Shakespeare Festival at Stratford-upon-Avon. Among the players were Marion Terry as Rosalind in As You Like it and John Coleman as Pericles. The company also performed Othello, Macbeth, and The Merchant of Venice (Loney, I: 3).
1902 Johnston Forbes-Robertson played Othello at the Lyric Theatre, London, in forty-six performances of the play from December, 1902, through February, 1903. Herbert Waring played Iago, Lena Ashwell, Emilia, and Gertrude Elliott, Desdemona (Wearing, I: 197).
1904 On December 5, at the Princess Theatre, New York City, Robert B. Mantell opened a two-week run of plays in repertory. He played Othello and Richard III. Marie Booth Russell performed with him (Loney, I: 24).
1910 On March 11, The Sicilian Players offered a novel Sicilian version of Otello at the Lyric Theatre, London (Loney, I: 53).
1912 On April 9, Herbert Beerbohm Tree opened his season of Shakespeare at His Majesty's Theatre, London, with Othello; his company also performed The Merchant of Venice, Twelfth Night, and Henry VIII (Loney, I: 63).
1912 The third annual summer season of Shakespeare began on August 7 at Stratford. The Shakespeare plays performed by Frank Benson's troupe included Othello, Henry V, Antony and Cleopatra, A Midsummer Night's Dream, and The Merry Wives of Windsor (Loney, I: 64).
1914 William Faversham produced Othello at New York's Lyric Theatre on February 9; he played Iago and R. D. MacLean took the part of Othello (Loney, I: 72).