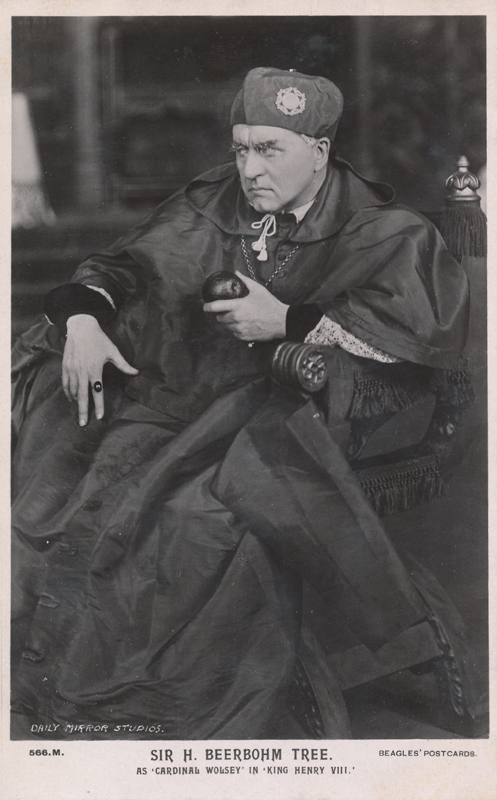 I shall fall Like a bright exhalation in the evening, And no man see me more (3.2).
Two stories dominate Henry VIII: the fall of Cardinal Wolsey, Henry's powerful advisor, and Henry's quest to divorce Queen Katherine, who has not borne him a male heir, and marry Anne Bullen (Boleyn).
First, the Duke of Buckingham questions Wolsey's costly staging of a failed meeting with the French king. Wolsey arrests Buckingham and accuses him of treason; testimony from a bribed witness leads to Buckingham's execution. Queen Katherine takes a stand against Wolsey. Wolsey gives a party at which Henry meets Anne.
Henry falls in love with Anne and seeks to divorce Katherine, but Katherine refuses to be judged by Wolsey and other church officials. The king secretly marries Anne and then has her crowned queen. Meanwhile, Henry discovers Wolsey's treachery against him. Wolsey, arrested, falls sick and dies. Katherine also sickens and dies.
Cranmer, the new archbishop of Canterbury, comes under attack, but receives the king's support. Anne gives birth to a daughter, the future Queen Elizabeth. Cranmer prophesies marvelous reigns for her and her unnamed successor, James (reproduced with permission from Folger).
Postcards of Henry VIII:
Productions of Henry VIII:
1892 Henry Irving's production of Henry VIII ran for 204 performances at the Lyceum Theatre (London) from January 5 to July 30 and then again from October 1 until November 5. Its popularity was due no doubt to Irving's part as Cardinal Wolsey and Ellen Terry's as Queen Katherine. The other performers were Arthur Stirling and Amy Roselle who substituted at times for Irving and Terry, William Terriss as Henry VIII, and Violet Vanbrugh as Anne Bullen (Wearing, I: 184).
1893 Henry Irving gave three performances of Henry VIII at the Lyceum (London) in July. Irving played Cardinal Wolsey and Genevieve Ward played Queen Katherine, with William Terriss as Henry VIII and Amy Coleridge as Anne Bullen (Wearing, I: 336-7).
1902 In April, Frank Benson presented seven Shakespeare plays at the Stratford-upon-Avon Festival, among them Twelfth Night and Henry VIII. Ellen Terry made her debut at the Stratford Theatre as Queen Katherine (Loney, I: 12-3).
1910 On September 1 at His Majesty's Theatre, Herbert Beerbohm Tree played Cardinal Wolsey in Henry VIII; the other players included Violet Vanbrugh, Laura Cowie, and Clarence Derwent (Loney, I: 54).
1911 The London Shakespeare Festival opened on May 22 at His Majesty's Theatre with Herbert Beerbohm Tree's Julius Caesar, followed by Oscar Asche and Lily Brayton's As You Like It. Next came The Merchant of Venice and Twelfth Night. Frank Benson presented The Taming of the Shrew, Tree revived his Henry VIII, and the Festival closed with Benson's Richard III and on July 3, the final night, the Merry Wives of Windsor (Loney, I: 158).
1912 On April 9, Herbert Beerbohm Tree opened his season of Shakespeare at His Majesty's Theatre, London, with Othello; his company also performed The Merchant of Venice, Twelfth Night, and Henry VIII (Loney, I: 63).